XT10 Auto Stroker Thrusting Sucking Vibrating Heating Base
*
Order will be fufilled within 8-16 hours.
Order will be fufilled within 8-16 hours.
Ship From Los Angeles, US. Free & Discreet.

60 Days easy return for any unopened items,Hassle-free.
Highlights:
Experience the exhilaration of 4 frequency fast stroking options with varying speeds and intensities, you can explore a range of stimulating sensations that will take your pleasure to new heights.
Enjoy the sensation of 4 frequency vacuum sucking which combines suction and pulsation to create a mind-blowing experience that mimics the feeling of oral pleasure.
Indulge in the power of 10 frequency strong vibration with a wide range of intensities to choose from. Customize your pleasure and discover the perfect vibration setting that will leave you breathless.
Prepare for an incredible experience with the fast heating base. Within a quick 10 minutes, the sleeve can be heated to a soothing 40℃, creating a warm and inviting environment that enhances your pleasure and adds a new level of realism to your sessions.
Reach the pinnacle of pleasure with one-click climax function. With just a simple press of a button, you can instantly escalate the intensity to the maximum frequency, allowing you to achieve a mind-blowing orgasm with ease.
Stay informed and in control with the LED display. Allows you to easily monitor and adjust the settings, ensuring a personalized experience that is tailored to your preferences.
Enjoy the soft and supple feel of the TPE sleeve. Crafted from high-quality materials, odorless and oil-free, providing a hygienic and comfortable experience that enhances your pleasure.
Experience the sleek and discreet design. Inspired by aerospace aesthetics. With its modern and stylish appearance, you can confidently enjoy your pleasure without drawing unwanted attention.
Material: ABS+Silicone
Weight:1.8 lbs
Waterproof: No
Charging Time: 4 Hours
Run Time: >45 Mins
Mute: 65 DB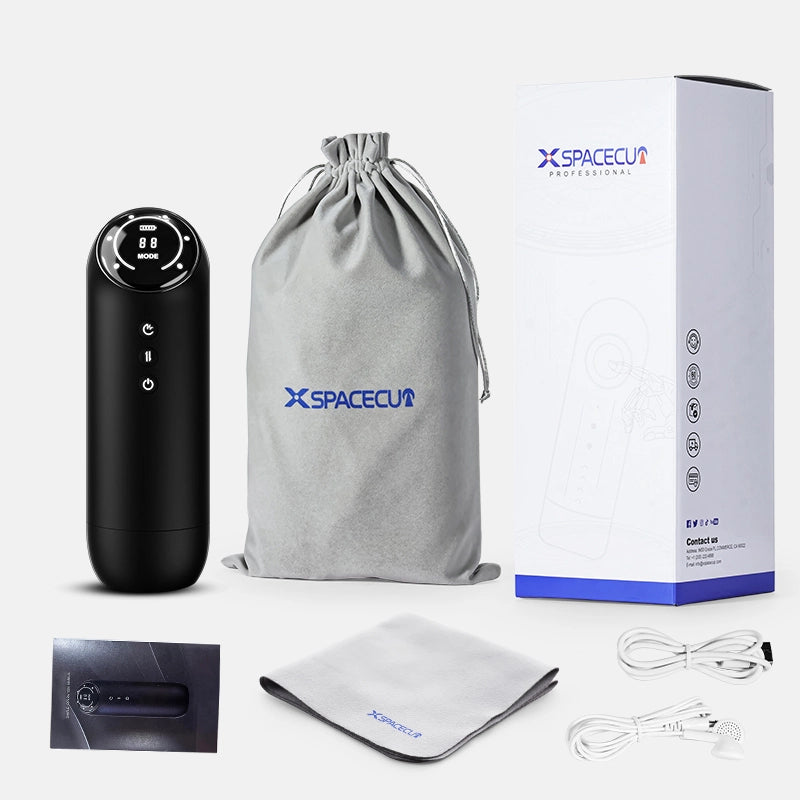 Package List
Masturbation cup
Charging cable
Cleaning cloth
Heating base
Storage bag
Earphone
Manual
The masturbator is cool just wish the suction wasn't as strong and it came with a few more functionalities but it's definitely a good purchase !
This is my first electrically operated toy, but even with nothing to compare it to I am quite impressed. Lots of different features and combinations to try!
This is a great product for anyone's first! The functions are simple to follow and the clean up process is easy. For what it's worth I think it's a good deal! Definitely recommend
I'm usually not excited about toys for me, because let's be honest ... for men there isn't a wide variety of fun toys. But this one has a variety of options and each feature has plenty of modes. This toy does it all! It's been a great experience and I'm so thankful to have received it!
I wasn't prepared for all this toy does. The suction is the high selling point, but it also vibrates and moves back and forth. Quality product, delivered promptly and no issues at all.
The different modes all work together well, even all three at once. The actual toy being removable from the housing is a big plus for cleaning too, and it's inconspicuous enough with the cap on. Looking forward to using it more often.
I could use this for hours. The hole is a little small for my manhood but the toy has great suction and vibrations. The silicone is extremely soft giving it a real life feel.
WORKS GREAT. had my doubts, but no more, don't know why I didn't buy one sooner!