XT12 Waterproof Stroker Thrusting Vibrating Fast Charging
*
Order will be fufilled within 8-16 hours.
Order will be fufilled within 8-16 hours.
Ship From Los Angeles, US. Free & Discreet.

60 Days easy return for any unopened items,Hassle-free.
Highlights:
Enjoy a customizable and deeply satisfying experience with 5 speeds & 10 modes of thrusting
Indulge in the delightful sensations of 3 speeds and 7 modes of vibrating and elevate your pleasure to new heights.
100% waterproof allows more versatility and convenience. Whether you prefer to indulge in pleasure during a relaxing bath or an invigorating shower.
Customize your experience with the Adjustable Rolling Beads. Easily control and modify the level of intensity to suit your personal preferences and explore new sensations.
Fast charging in 2h and ultra service time 1.5 h
3 language moaning feature will enhance the realism and create a more intimate and immersive encounter.
Elevate your pleasure to the next level with the one-click climax function, allowing you to achieve a mind-blowing orgasm with ease.
Material: ABS+Silicone
Weight: 1.8 lbs
Waterproof: 100% Full body waterproof 
Charging Time: 2 Hours
Run Time: >90 Mins
Mute: 65 DB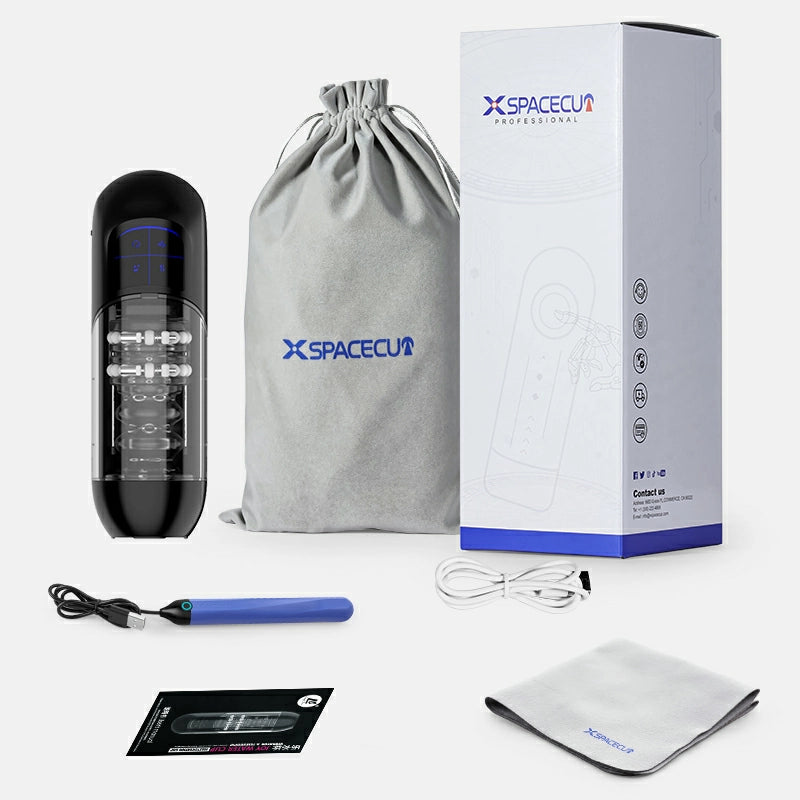 Package List
Masturbation cup
Charging cable
Cleaning cloth
Storage bag
Heating rod
Manual
The waterproof mode are the real game-changer. You can enjoy it in the bathtub and this device is also super easy to clean, which is a massive bonus. No one wants a product that's difficult to maintain, and this one hits the nail on the head.
All in all, this has been a life-changing purchase. I'd recommend it to any guy out there looking for a way to boost their pleasure game. This device isn't just another sex toy; it's a new level of experience.
I've own a couple different machine in the past but none of them compare to the quality of this one! It's lightweight, easy to hold, and feels great with warm water on the inside. I will never purchase a different toy, this one will be my go to forever!
Was initially a little wary of purchasing due to the low price point compared to other similar products. But what you see in the description is exactly what you get, very high quality materials and great little motor. Far exceeded my expectations!
When it comes to a male enhancement toys this one by far is the best I've ever owned. The stroking power is incredible and the motor is super strong, the multiple modes are great for experimenting for hours of fun.
I gave this toy a solid 7 days of various testing 1 1/2 hour each day
I've owned in toys in the past with similarities but are cheaply made, weak motors, this by far is the best I've tested.
Pros:
Packaging box is clean, and professional
The charging port is easy to use with NO 20-year-old mini-USB port that others use to save a buck and a tight rubber seal for shower use.
Super easy to clean with markings to show how to lock and unlock the housing for easy cleaning.
quitter motor than most for discrete use (if you live in a house with others).
100% waterproof, and felt safe using an electronic device in the shower.
Manual vacuum, and release buttons, 7 modes vibration, and 10 modes for stroking action to enjoy, and experiment with multiple combinations..
The buttons are rubberized for ease of use.
Charging light is the rubberized buttons, slow blink for charging, solid light when fully charged.
Cons:
Please NOTE this is just my options, and in no way to defer you away from this product.
If I didn't mention this then you might be disappointed finding this out on your own.
Does not work while on charge
Does not come with USB power adapter
I bought this for my partner that has a high sex drive . At times I'm not around so thought this would help him out. So far he said it almost feels like the real thing. Stated it is very pleasureable and easy to clean and discreet. Would definitely recommend.
Great movement, super easy to clean, waterproof and durable! The material is very gentle and the motor and movements are very safe! Highly recommended!
Better than I expected. Worth the money. Comes fully charged and ready to go!
When it comes to male enhancement toys, I can confidently say that this particular one surpasses all others I've ever owned. The stroking power it provides is simply incredible, and the motor is impressively strong. With multiple modes to choose from, it offers endless possibilities for experimenting and enjoying hours of fun.
I dedicated a solid seven days to thoroughly test this toy, spending an hour and a half each day with it. Having owned similar toys in the past, I can attest that this one stands out as the best in terms of its superior craftsmanship, powerful motor, and exceptional stroking action.
Let's delve into the pros of this remarkable toy:
Firstly, the packaging box exudes a clean and professional look, reflecting the quality within. The charging port is conveniently designed, doing away with outdated mini-USB ports in favor of a modern and user-friendly alternative. The tight rubber seal ensures safe usage in the shower, making it 100% waterproof.
Cleaning this toy is a breeze, thanks to the markings that indicate how to lock and unlock the housing for easy maintenance. Additionally, the motor operates more quietly than most, making it ideal for discreet use, especially if you live with others.
The toy offers 10 modes thrusting function and 7 modes vibration. This versatility allows for countless combinations and customizable experiences. The rubberized buttons provide ease of use, ensuring seamless navigation between modes.
In conclusion, this male enhancement toy is in a league of its own. Its unparalleled thrusting and vibrating power, strong motor, and diverse range of modes make it an exceptional choice. With its user-friendly features, easy cleaning process, discrete operation, and waterproof design, it checks all the boxes for a top-quality toy. If you're seeking the ultimate pleasure experience, this toy should be at the top of your list.