XT5 Auto Stroker 10 Modes 10 Speeds 700 Strokes Per Min
*
Order will be fufilled within 8-16 hours.
Order will be fufilled within 8-16 hours.
Ship From Los Angeles, US. Free & Discreet.

60 Days easy return for any unopened items,Hassle-free.
Highlights:
10 modes super stroking with adjustable 10 speeds for each mode.Up to 700 strokes/min
Ultra-long stroking distance from 0.8 inches to 4.7 inches. Precise 5 fixed-points stimulation.
Innovative handheld design with dual-handle exchange control.And mobile phone holder on the top
Comes with 2 different sleeves. Open-end sleeve features stimulating textures, and single opening sleeve replicates a realistic pussy channel.
Material: ABS+Silicone
Weight:2.87 lbs
Waterproof: No
Charging Time: 6 Hours
Run Time: >60 Mins
Mute: 70 DB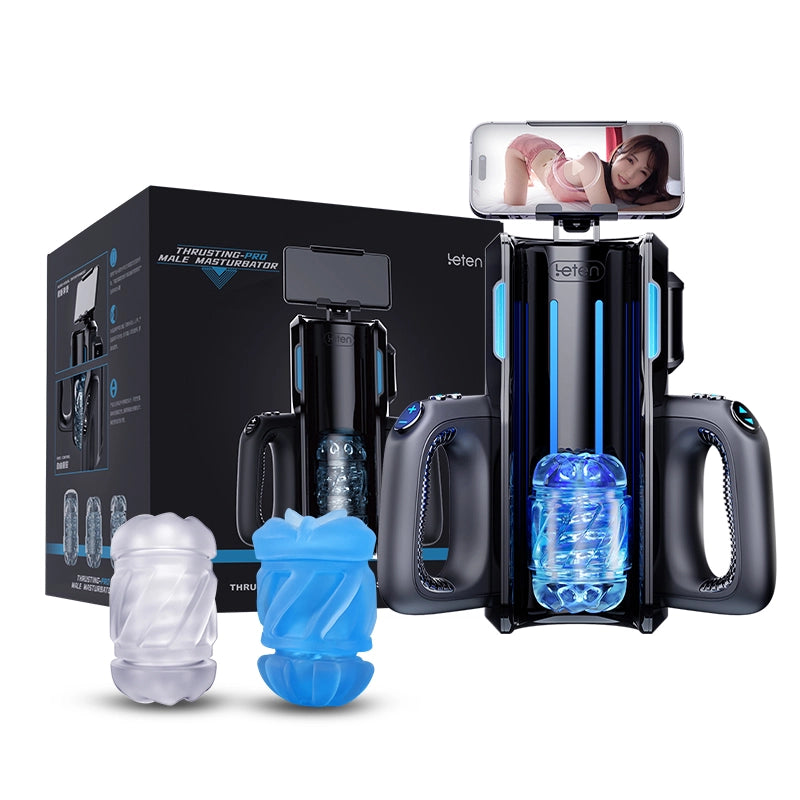 Package List
XT5 Masturbation cup
Charging cable
Sleeve*2
Manual
The product functions as described and is the best one that I have bought. It is works well and gets the job done. Would recommend getting it.
Holy cow! I love it. This is the first auto one I've owned. WAY better than a Fleshlight. So far I've only used this once. Wasn't even completely "ready" when I inserted, and was finished in less than one minute. I was shocked! Can't wait to use it again. Cleaning is SUPER simple. Just turn, rinse, dry. It's VERY powerful, and is not one to be used "discreetly". The stroking mode is very powerful. This is a very good value for the money. I will update this review once I've experienced more with it.
With it being the first masturbator I have owned or even tired I was really hesitant. I'm an experienced long session edger, I decided to use this masturbator for a session so I settled in. I was determined to outlast its battery and then some but it was not ment to be. It was on a high level of stroking and it had me kinda in a trance and it had me cummin before I even knew i was cummin.
Comes with two different sleeves and the texture inside has different pleasure points so I advise move it around and don't just hold it in one position. I have yet to run the battery out due to the first couple times and the speed it finished me and charging it after use...will be doing that soon tho. Taking it apart to clean it is pretty straightforward, and easy, awesome product
XT5 Auto Stroker 10 Modes 10 Speeds 700 Strokes Per Min
Hello guys,
I got this automatic male stroker. It came in the fifth day, was very nice!
It also came in a very safe and discreet box.
I already tested it and I love it!
It comes with 2 different very soft inside, and it has working very fast with multiple ways.
It has a safe way to charge the battery and it's very easy to clean up inside after the using.
I recommend it because it worth it!
Thanks for creating this product!
Little louder than I would like, but not a deal breaker. Controls take a little bit to get use to but a fun toy for sure.
Very impressed with this thing. It's kind of big but to works perfectly. Throw on some porn and then get this thing going… it's pretty sweet. Use it daily or almost daily tbh. Every dude should get one imho - you won't regret it, it's worth the cost
This device is really well made and works incredibly well. If you are someone who is going through a period where you are not having sex, it will absolutely get you through. In .my opinion, you shouldn't waste your time trying to find a less expensive product. This device is absolutely worth the investment.