XS1 Male Masturbator Suction Vibration Voice One-click Climax for Beginner
*
Order will be fufilled within 8-16 hours.
Order will be fufilled within 8-16 hours.
Ship From Los Angeles, US. Free & Discreet.

60 Days easy return for any unopened items,Hassle-free.
Highlights:
4 Modes strong suction provide a variety of stimulating sensations, giving you an unforgettable experience.
10 Frequency powerful vibration allows you to choose from 10 different vibration intensities, giving you an incredible level of pleasure.
One-click climax function allows you to reach orgasm with just one click, providing a more convenient and enjoyable experience.
Realistic sexy moans to enhance sexual experience and make it feel like you are with a real partner.
The heating function allows you to reach higher levels of pleasure by warming up the inside of the toy.
Easy to use and clean, so you can enjoy your pleasure without any hassle.
Material: ABS+TPE
Weight: 1.76 lbs
Waterproof: No
Charging Time: 2 hours
Run Time: >60 Mins
Mute: 50 DB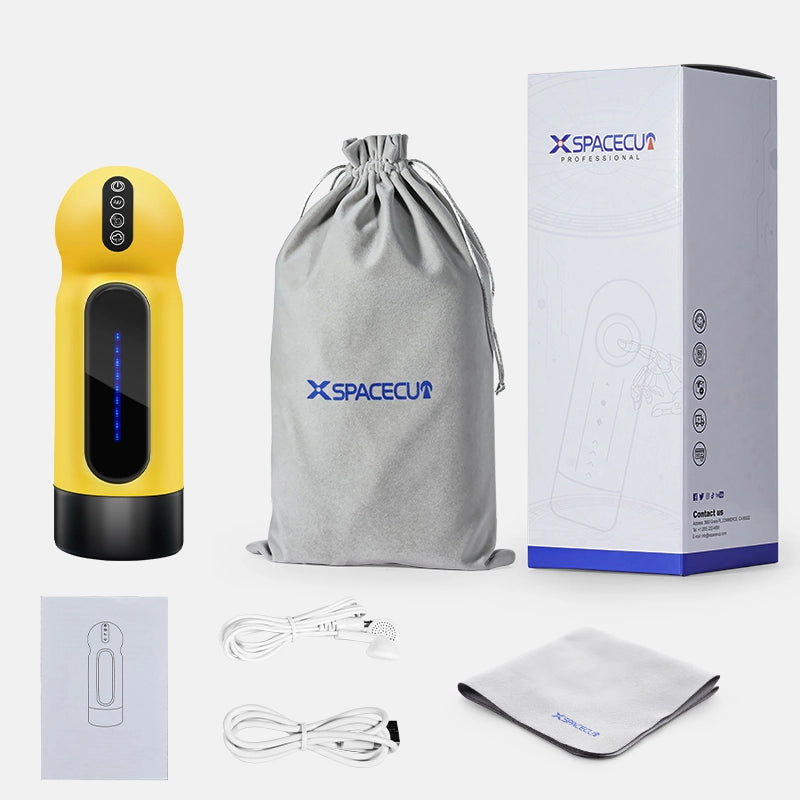 Package List
Masturbation cup
Charging cable
Cleaning cloth
Storage bag
Heating rod
Headphone
Manual
Awesome toy. This masturbator is one of its kind.
The sucking mechanism is unique and very powerful.
I had couple other masturbator, including Doc Johnson, Tenga.
But none of them give this unique experience. This is the best of all I have had.
You might have other favorite, preference is very personal.
But this surely will give you a special sensation by combining suctions and vibrations, with the warmth and the softness all at the same time.
Came with discreet package,easy to use and clean.
Recommended.
The vibrations are powerful, but what impresses me the most is the suction power, and you can choose from a variety of modes to enjoy it,amazing toys.
The features on this are amazing, sucking and vibrating for stimulation that is out of this world. Can't seem to last very long while using this super easy to clean as the silicone insert comes out and the base is chargeable so you don't have to worry about buying batteries. Great personal toy for those that are in the market.
It inhales deeply and exhales slowly to simulate the squeezing feeling from the throat in the mouth you never experienced. Every inch of skin dances with the crystal elastic silicone of different shapes.
It was...somewhat enjoyable. I like how it heated, has many vibration modes, and a strong suction mode. The suction was strong but didn't suck my testicles into the tube, like some other penis pumping toys. I wouldn't call this a penis pump, but close enough. The suction and release mode felt amazing and was fun to play with but kind of wish it had a faster suction mode. The rechargeable USB function makes it very convenient, and easy to travel with allowing you to conveniently use the you whenever you want without the worry of needing batteries. The sleeve is detachable and easy to clean with hot soap and water. After a couple tires, I was able to figure out how to use the machine functions and was able to really use and enjoy this product. There is a vibrating egg that comes with the unit which is inserted into the sleeve. However, with the thickness of the sleeve you could feel the vibrations but not enough to really get an effect from it. Out of everything using this as a stroker that has a suction was my favorite part of this toy. I would recommend this toy!
This thing feels amazing! It has a insane amount of settings for suction strength and duration. The vibration is the same has a ton of different speeds and patterns to set it too as well. Its easy to take apart and clean too. 5 stars would definitely recommend!!
Wow! This product gives you this sensation and you are able to finish quick. It has a lot of good settings and definitely great suction. I would absolutely recommend this product